Our Christmas Wish
Kyriakos is 11 years old, lives in Cyprus and has Oculo-Dento-Digital syndrome. This means that he cannot see. They cannot treat this in Cyprus, but can in the United Kingdom. Kyriakos' parents work all the hours that God gives to be able to afford this imperative treatment.
This has been our 'Wish' for 5 years now and we are pleased to report that Kyriacos is making great progress and is doing great at school and is proving to be a budding musician. He has come so far now that 2 years ago he was able to tell you his story himself:

Hi, my name is Kyriacos,

I live in Cyprus and I am nine years old. I have a very rare syndrome called Oculo-Dento-Digital syndrome. There are only fifty people in the world with this, so you could say that I am quite special.

I was born with a cleft palate, webbed fingers, missing enamel on my developing teeth and sparse hair. These were not so bad and have been sorted out. I have had many operations, about ten I think. But my big problem is my eyes. They have not developed properly and so I am blind. I have a condition, which is called Glaucoma, which means I have high pressure in my eyes. I can see light and dark.

Five years ago I went to Great Ormond Street Hospital four times for treatment for the Glaucoma. The operation was a success and the pressure was halted. In January of this year I again went to the UK where I had another operation for the Glaucoma. In total so far I went to England three times this year. If I do not have this treatment I will go blind completely. My consultant, Mr Nichal, gave us some good news. I have to go with Mummy back to Great Ormond Street next year and if the pressure in my eyes is good they will give me a corneal transplant. I won't be able to see as a normal person but I will be able to see shadows. For me that will be fantastic.

I also have to have some treatment on my teeth so that I do not lose them. They will all be capped. So as you can see I will be quite busy in the next year.

I would really appreciate it if anybody can help my family with a donation. It does not have to be a great amount, every little helps. And if you visit us here in Cyprus you are very welcome to come to my house and meet me yourselves.

With Love



Kyriacos.
October 05

This is not a scam, we know because Andy ( his father) works for us doing transfers. (We have asked the bank for a letter confirming this sad state of affairs and are providing more info below)

Our wish is to be able to help this family cope with financial burden even if we can't help with the emotional one.

We would welcome our friends, clients and supporters to consider a donation.

Please make Cheques payable to :Androulla Louca (His Mother)
Bank of Cyprus. Kamares , Larnaca.
Account number 057105001411


Or to make a donation by credit card, please fill in this online form.
It will not be deducted until we have confirmed with you by e mail.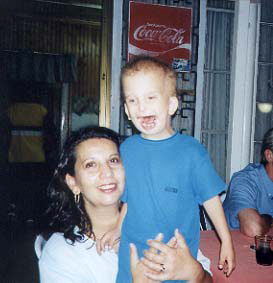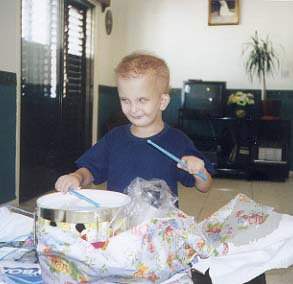 Androulla's Letter (His Mum)
Our son, Kyriacos, was born on 19/9/96. He was full term and he weighed 3.150kg. Our ages

at the time were 35. My pregnancy was trouble free apart from a slight bleed at the beginning &

also a virus at three months gestation. The virus was not bad, just being sick & general aches &

pains. He is our fourth child, all the others are normal.


He cried straight away & just needed a few puffs of oxygen & a bit of warming up. The midwives

& doctors noticed his hands immediately & also his cleft palate. They then realised that his eyes

were abnormal. He was taken the next day to the Makarios III Hospital in Nicosia because he could not feed properly. He stayed there two weeks to establish that no internal organs were affected.


He was placed under the care of our neurologist, Dr Violetta Anastasiadou, & our geneticist

Miss Elena Spanou.
After a few months he was diagnosed with Oculo-Dento-Digital syndrome.

I will now give you a list as to what Kyriaco has wrong with him:-

SPARSE /FINE HAIR
SMALL NOSE
LOW SET EARS
SMALL CHIN
SMALL TEETH/ENAMEL ABNORMALITIES (CAPPED TO PROTECT HIS TEETH IN OCTOBER 99 )
BOTH FONTINELLES (FRONT & BACK) WERE OPEN BUT HAVE NOW CLOSED NORMALLY
MICRO CORNEA
MICROPHTHALMIA
GLAUCOMA
HYPOTELORISM
MEMBRANE OVER THE PUPIL ( I AM NOT SURE IF THERE IS MORE ON HIS EYES, BUT IF NEEDED I COULD GET A REPORT FROM THE DOCTORS)
NARROW SHOULDERS
CLEFT PALATE (SOFT) (SUCCESSFULLY CLOSED JANUARY 1998)
SKIN SYNDACTYL OF FINGERS ON BOTH HANDS (THREE ON THE LEFT/TWO ON THE RIGHT, AWAITING SURGERY)
HERNIA ( LEFT TESTICLE, OPERATED ON JUNE 1997)
TRANSLOCATION OF TOES ON HIS FEET

Although Kyriaco is very visually impaired it seems , thank God, that he is developing normally

Neurologically. He had a test at the Cyprus Institute of Neurology & Genetics on his optic nerves.

It seems that they are working to some degree but the nerves have a dysphasia. As of yet they cannot tell us how much vision he has because he is so young.

We have now been to England three times. They told us that he can only see light and dark and that at Present there is nothing that can be done for sight. The consultant said that we must be positive as in the future maybe something can be done. In October he had lazer in both eyes to alleviate the pressure in his eyes which will stop him going completely blind. At present the pressure is under control but he will have to be monitored closely as it can return. In January we will be returning to England for a further check up.

I hope this information will be of use to you.

Your truly
Androulla Louca

03/12/2002 Update

Hello my name is Androulla Louca. I am the mother of Kyriaco. First of all I wanted to thank everyone who donated through this web site and also to Armata for all their help.

This is an update on what has happened over the last year in Kyriacos life.

This time last year Kyriaco had the first of two major operations to separate his webbed fingers. He had three webbed fingers on the one hand and two on the other. The operations were carried out here in Cyprus by an excellent micro-surgeon specializing in limbs called Dr Alkis Alkiviades. His little finger on the hand with three webbed fingers was separated on 10th December 2001. There followed three months of outpatient appointments to change bandages and check that all was well. The result was fantastic. In March of 2002 the second operation was carried out. This time both hands were operated on simultaneously. Again it took three months of coming and going to hospital (about 25miles each way) twice a week.

We thought it would be very distressing for Kyriaco but he sailed through this with great courage and a keen sense of humour. The fact that both his hands were bandaged did not stop him from leading a fairly normal life. The results are 10 wonderful little fingers. We were lucky he did not require physiotherapy as his joints are very good. When he is about 15yrs of age he will need an operation to straighten his fingers out.

The only thing left now are his eyes. Kyriaco if very visionaly impaired. He can only see light. Again he is an inspiration to all who meet him as he is a very bright child and also very happy. He is having treatment for glaucoma (eye pressure) and with any luck in the future he might see.

We have used your donations for all our traveling expenses. Also I cannot work

because of all his hospital appointments which take up alot of our time.

Our main aim is to save for any future treatments that may arise to help him see.

We have contacted America through a relative that went there recently for an operation and were told that the treatment that Kyriaco is having is fine and it is very important to keep his optic nerves alive. Also we live in an apartment on the first floor so again any donations will be saved so that we can move to a ground

floor house.

Again, let me thank Armata for their help and also to everyone who has donated,

and if anyone of you are ever in Cyprus please feel free to come and meet Kyriaco.

Thanking you

Androulla (Kyriacos' mum)


---

Our phone number is +357 24 665408 Fax +357 24 627489
Postal : P.O. Box 40218, Larnaca, Cyprus.
E-Mail : info@armata.net

Copyright © 2000-2011 [Armata]. All rights reserved.
Revised: April 23, 2018